Our first objective, attending the Cajun fest at Isleton was met!
We had one heck of a great time enjoying big bunches of mud bugs! And some great Cajun music. The day was a lot of fun and our life long friends, the Cole's, had the time and drove up to visit and enjoy the event with us. That made the day!
From here, we had to decide to head further up the Sacramento river, or head back down. Looking at the charts and books, it looked (TO US) like a lot more interesting places were on the San Joaquin river than on the channel leading up to the city of Sacramento. So at this point we decided to head back down river.
This Delta cruising is a LOT different from ALL of our other cruising. It is taking a completely different skill set.
In the ocean, there is always safety in heading to open water. NOT SO here on the Delta. It's confining to a sail boat. At least that's the way it feels to us. In our cruising in the ocean and Sea of Cortez, it was always easy to see the depth of the water by color. Determining depth by color is NOT AT ALL possible here on the Delta! It's all about the same color, no matter the depth. So much for my whining!
Looking to the north should have been a give-away. There were hundreds of BIG wind generators on the hills beside the river! So, we had a LOT more wind than we wanted in such a confined space. But we made it just fine downriver to the Antioch marina. It's a small marina and was calm during the night with a nice harbor master. BUT, a few things became know to us after we got there. First, it was a long hike to a market to get food stuffs! Next, the restaurant that WAS next to the marina is a "was" not an "is". Bummer, as Jill was looking forward to a dinner out. And there is not much to do close by.
From Antioch, we headed up the San Joaquin river toward Stockton. From the charts, it looked like more things to see along the way.
As we were heading that way, we decided to stop at the Owl Harbor marina. We had heard a lot of good things about it.
WOW, what a GREAT marina! It's hard to relate the warm welcoming we received and how friendly it is!!! Once we checked in, we were told about the garden that the live aboard people keep up. And how any extra fruit or veggies were free for the taking after they were put in an excess bin. AND, they keep chickens there and were offered FREE eggs any time we wanted them. And on top of that, as we were in the Delta Doo Dah, our cost per night was cut in half. We could live here. Did I mention that they have a fleet of about 8 bicycles that are there for us to use? Also free. The only down side was that any place to purchase provisions is a car ride away. There is a SMALL store that has some light snacks that I rode to with one of the bicycles.
As fun as Owl Harbor was, we wanted to get some at anchor time. Asking around we found out that a place called Potato Slough was popular with a lot of the locals. It has a few places in it referred to as "bedrooms". As in bedroom #1 and #2 and #3. After circling around in a couple of the bedrooms, we decided to drop our anchor in #2. It had quite a bit of swing room for a few boats, but was out of the channel traffic. As an added benefit, we would be easy to see the BIG Hilton sponsored 4th of July fireworks. It was finally warm enough to hit the water! Even Chica got to do a bit of swimming. She seemed a bit afraid at first, but then started asking to hit the water.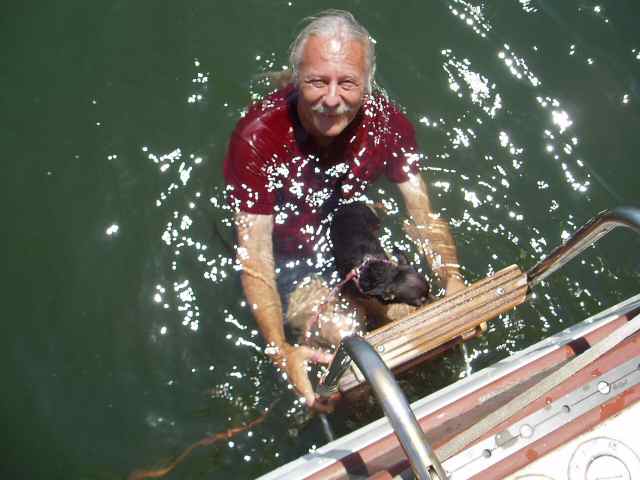 After a few days at anchor, we headed further down Potato Slough and came across a place called Herman & Helen's. We stopped in and found they had a restaurant that specializes in Bar-B-Q ribs! One of my faves. So we pulled in. Once at the dock, we found out a live blues band would be playing a bit later, ON THE DOCK. What's a cruiser to do? Stay the night. It was fun and the ribs made my day.
After a fun time, we moved on up the river to the Stockton Sailing Club. It's almost downtown Stockton. It is also one of the marinas sponsoring the Delta Doo Dah, so we wanted to visit. When we got there, we found we were in for a very big surprise. They were sponsoring the kids sailing camp. About 100 kids from all over northern California and two other yacht clubs band together for this week long event. The kids camped out along one side of the property and the parents were not allowed in the camp area. It was a treat to watch the kids. And a thrill to see them race and even drop in on the conversations about jibing, tacking and the race strategies. We spent a week here. Stayed a bit longer than we planned to because we wanted to watch the last day of the sailing camp. The kids were divided up into a batch of groups and each group had to make a sail out of plastic and duct tape, then raise it and race! It sure did make me wish I had an opportunity like that when I was young.
When we were at the Stockton Sailing club, another boat in the Doo Dah (Sizzle) posted a note about a beach at a place called Mildred Island. So off we went....
Unless you know the Delta, this might take a bit to understand. Most of the delta land area is below water level. They have made levies to hold the water back. This forms acres of dry land surrounded by roads with water canals behind them. This was done many years ago. At one point, a couple of the levies let go and the land that was protected by them flooded. It's a funny feeling sailing down a canal surrounded by roads and knowing that most of the land around you is below your level by many feet.
The levee in an area of Mildred island broke some years back. So, it flooded the area that was used for farming and formed what I would call a pond or small lake. BUT, it's still called Mildred island! So this pond that is a steady 25 to 35 foot deep is and "island"!
We had the GPS coordinates of a good anchorage close to the beach, so off we went. Once we dropped anchor, we knew our definition of a "beach" was different that that of people in the Delta! It was sand, it was dry (at high tide), but is was SMALL!
We did have fun anchored there for a few days. We watched a small sea plane do touch and gos on the "island". And got some reading time in. We got to walk on the beach a couple of times. And to our surprised, Chica showed off her swimming talent. Jill waded in to was some sand off her feet and Chica ran on out into the water and started swimming around!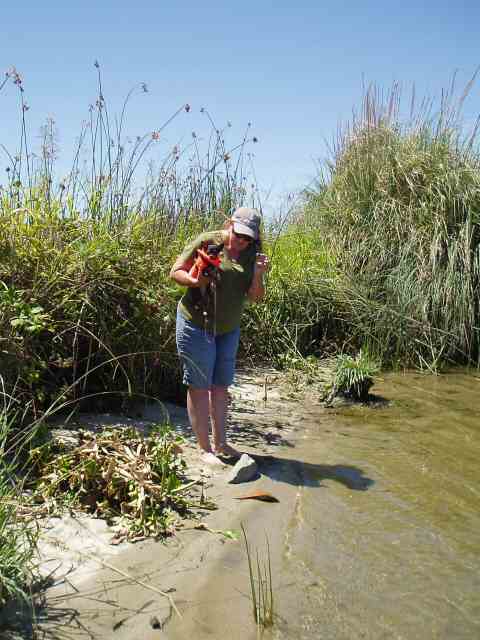 We were also happy that the one 85 watt solar panel we had out was supplying enough power to our system at a level that would not require us starting the motor for charging for quite some time.
We had picked up a copy of Latitude 38 magazine. As we read it there was a one quarter page add about a Bar-B-Q for the boats in the Doo Dah to be held at the Delta Bay marina. So off we went. We pulled into Delta bay a day early to make sure we had a spot. As we check in, and were asked how long we wanted to stay, we suggested 3 or 4 days to enjoy the Bar-B-Q. The lady informed us that the Bar-B-Q had been canceled due to no RSVPs. We opened our copy of the mag and pointed out NO RSVP was requested. At any rate, as they did not have WiFi, we decided on one night so we could hit the local restaurant and small snack store.
Next, back to our favorite, Owl Harbor!
Greg & Jill