June 1 is the start of hurricane season. We were confident that we would not be in any danger for some time, but we are conservative in our sailing, so we were starting our planning to return to our home base in Az.
But for a few weeks, we still had some places to check out.
During our stay at Grand Bayou Marina on NAS Pensacola. Wilson Frye invited us to sail on "Talofa Lee", one of his 2 Nor'Sea. I got to go, but Jill stayed on Guen to do some chores. It was a GREAT day out, one of those perfect sailing days, doing up to 5 or more knots with almost no heel. Nice gentle breezes.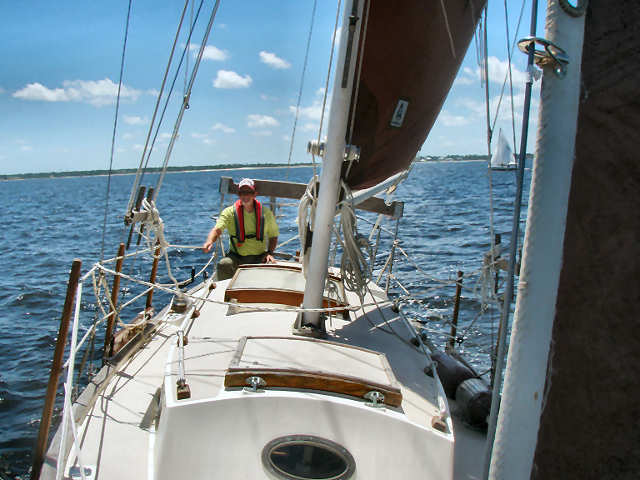 When we were on the road to New Orleans we were able to meet up with Charlie Jones, of S/V Tehani. During our talking he suggested that if we were in the Pensacola area early June, we would enjoy what is called the "Backwater Environmental Escape Rendezvous (B.E.E.R.) cruise. We were in the area, and looking for a yard that we could end up in that had a travel lift to put us back on the trailer. As it turned out, the B.E.E.R. was hosted in just that type of shipyard. We arrived at the yard a few days before the cruise in order to make our haul-out arrangements with the yard. At the same time Wilson Frye was SOOOOO KIND to bring our truck & trailer down to the yard. So, we had transportation for the last few days. AND, it gave us time to take our truck to the dealer and drop it off so they could work on the air conditioning as it was quitting during towing (but working OK when not towing)
The B.E.E.R. turned out to be quite fun. It's sort of a group of mostly trailer sailors. After the greeting dinner, you depart when you want to, arrive at the next meeting place when you want to and just get together informally. NO PRESSURE to participate or follow a schedule made by others!
I have to say that the kick-off dinner (on Friday the 13th.) was a GREAT event. It was hosted by both the B.E.E.R. AND the Pensacola Shipyard Marina at NO COST to attendees. It was a terrific meal and we thank you all!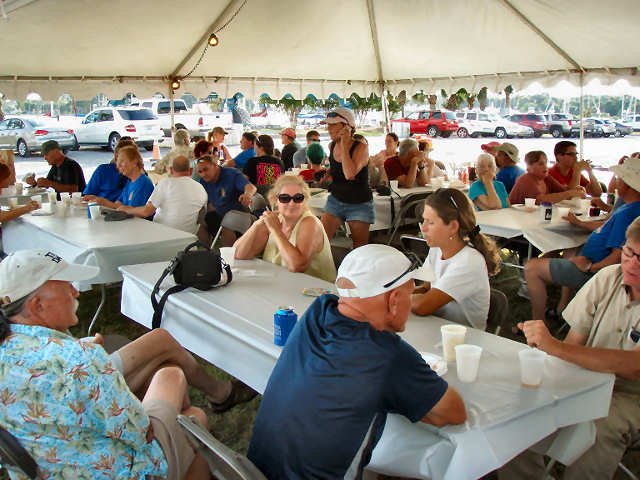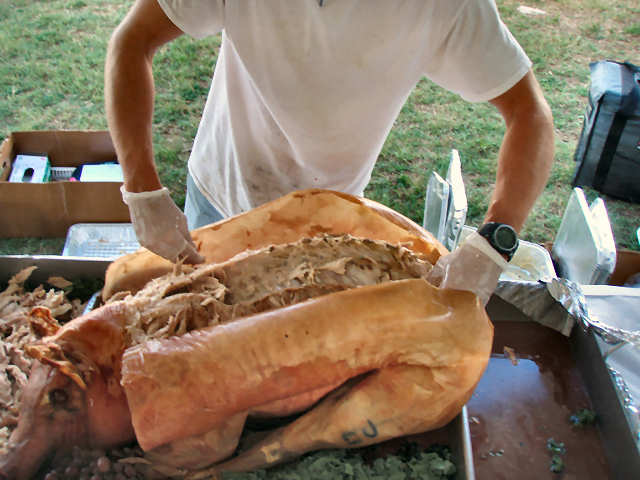 I believe about 34 boats signed up for the event, but I am not sure how many actually showed up, it was that loose an event. We did see some boats there that did not officially sign up and we are not sure how many that signed up that did not show up. We did get to see some fun boats! This is the small gaff "Claria" owned by Scott Gilliam. Watching her cross Pensacola Bay was like looking into the past!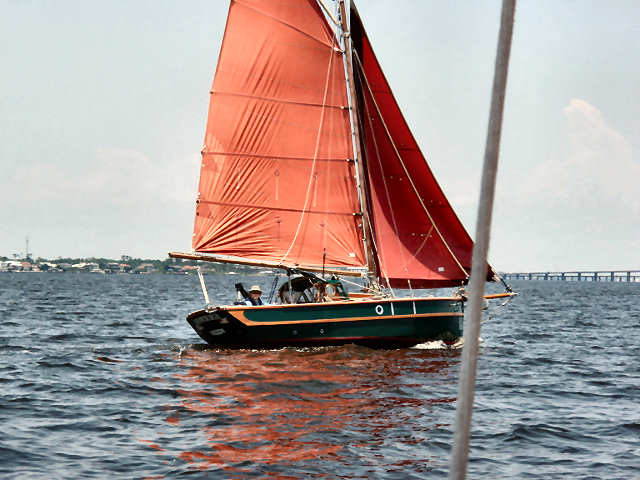 During the cruise we got to anchor in a few places we had not stopped at before. And as it was an easy short trip between stops it gave us time to do some GREAT day sailing. We took our time and on one occasion, even did NOT do a sail change that would have sped us up. It was to good a sail that day. Jill loves to do the wing-on-wing thing!
After B.E.E.R., it was time to fold up the amas for the F-27, load on the trailer for all of us, and head out on the road.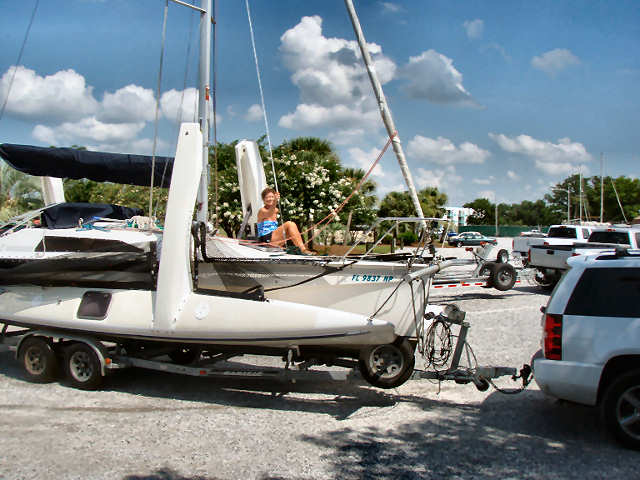 I have to say here that 85 degrees in Florida is WAY hotter than 95~100 degrees in Az. Or the desert! De-rigging Guenevere was a challenge in this heat!! But it only took us 2 days to be road ready.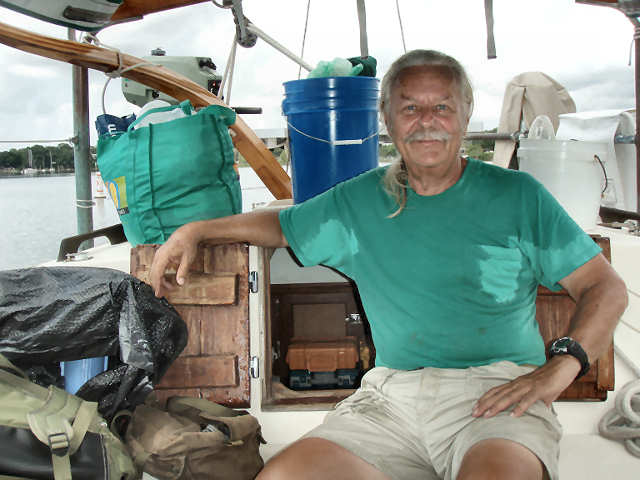 We got our truck back from the dealer and after a batch of $ the AC system seemed to be working fine.
Our first driving day, we normally plan less mileage than the following days. We got a start driving around noon and it was an easy day trip. The AC was working great and the road was mostly flat.
The second day was likewise an easy day, with about 50 to 75 more miles than the first day, and ice cold AC.
The next day, we started earlier in the morning. About 15 to 30 min on the road and the AC QUIT!! Did I say how HOT it is in the south in June?
With windows down, we steadied on. Some miles down the road I noticed in the passenger side mirror what looked like a small bit of rag caught on the aft trailer fender, fluttering in the wind. We heard or felt NOTHING, no pulling to one side or more drag, so I was not to worried. Not wanting to make a highway shoulder stop, I continued on about 10 to 15 miles to the next exit. It was NOT a rag and I found that the aft stbd trailer tire would no longer hold air... ;-)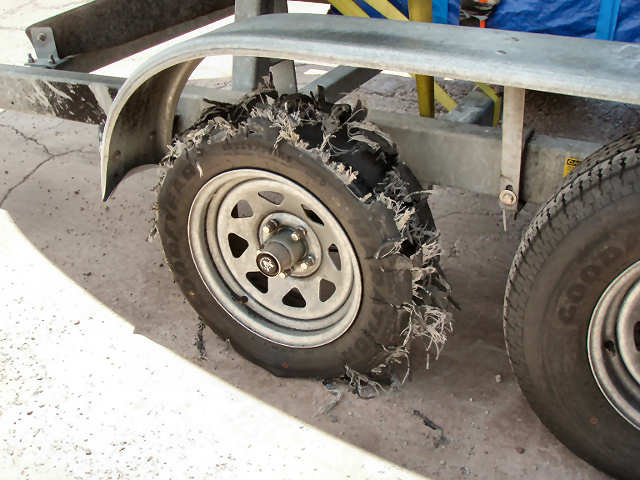 Well, crap! But, not a big problem as I had bought a spare tire from Pacific Trailer, the same people who sold me the trailer. AND, I had just popped it in the back of the truck, still wrapped in it's shipping package. So, I jacked the trailer, took off the bad tire. Unwrapped the new tire and rolled it back to the hub and tried to mount it. WOW!!!! the trailer takes wheel with 5 lugs, THEY SENT me a 6 (six) lug tire and rim!!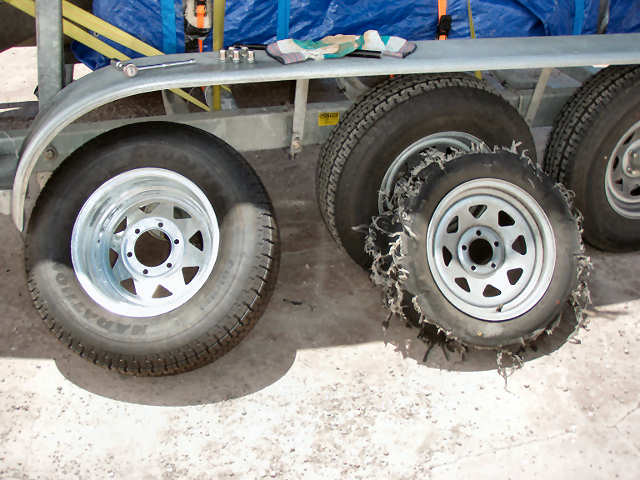 I was lucky enough to find a truck tire shop near by, so I had them remove the tire from the 6 lug rim and put it on the 5 lug rim. What a pain and I am sure I was using sailors language for quite a time. After some time we were back on the road and the AC seemed to work for about an hour or so.
We were about 100 miles east of El Paso and the road was starting to be a bit hilly. As we were climbing one hill, the tranny slipped into over drive to keep up a bit of speed. Then, on the down side of the hill I expected it to shift back, right? Oh crap number 2. It would not go out of overdrive! But, we were still making progress and had a reservation in El Paso, so on we went. Our millage dropped considerably.
We checked into the hotel, JUST making it due to another hill and the tranny acting up a lot more now. The heat in the tranny, on our gauge was hitting 240 to 260 degrees F.
That night I decoupled the trailer in the hotel parking lot and drove to get fuel at a close station. It would take off just fine, but not go into upper gear. I had our tranny rebuilt by Aamco, so at 0730 the next morning I was at the closest Aamco! It took 4 days to get it fixed. Why is it that when you are on the road, it's NEVER a problem that is covered under the warranty???? A new computer and some new wiring relieved us of quite a bit of $, not to mention the unexpected hotel cost.
Once I got the truck back, I drove it around a bit to make sure it was working well and then connected up the trailer.
The next morning, bright and sunny but not to hot, we stared out once more. As I drove around the back of the hotel, at not more than 1 or 2 mph, I managed to touch a curb with the forward tire on the drivers side. All at once Jill and I hear a loud whoosh! I can say that I have hit more than my share of curbs with not a lot of damage. Well..... NOT THIS TIME! It must have been the angle that the tire contacted the curb as it made a big bend in the rim!
It was lucky that it took only about an hour for me to find a new tire and rim. And, the best part was that the price as only about $2.00 more than the best price I could fine on the WEB. You see, I was checking the night before.
We finally made it back to our storage yard about 5 PM. Still plenty of light to park Guen.
No need to lecture, I know, a stick shift would have not had the same problem, but we had a reason for getting the automatic. Also, I am now looking at getting two (2) spare tires before our next trip. AND, we will NOT tow during the summer!!!
I may be slow, but I can learn.
That's it for now. Hope you are ALL doing well and happy sailing!!!
Greg & Jill